Christmas Traditions
Christmas Traditions
Some Old & Some New Traditions
With there only being the two of us now and being so far away from family & friends – some of our Christmas traditions are no longer possible.
There will be no big get-together this Christmas.  No turkey dinner fit for umpteen guests.  No Lord of the Rings (extended edition) marathon with my daughter including all the bonus material.  Twelve discs in total.  I'm going to miss that but my son's just not into LOTR.
This year, we'll need to incorporate some new traditions to take the place of the missing ones.
Some of our traditions started when the kids where very young.  They would get so excited on Christmas eve that we would have a hard time getting them to sleep or to sleep through the night.  So, we started with a Christmas Eve Gift Box.  One gift that they could open the night before.  It usually had a new family DVD for our collection, some special hot chocolate & a treat to eat while we all settled down to watch our movie.
The kids would hang their stockings & leave treats out for Santa & the reindeer before heading off to bed.  We would stuff their stockings with books & treats and leave them at the foot of their bed.  This would keep them occupied in the wee hours of the morning, so we could get at least an extra hour of sleep.
The kids are all grown up now and I no longer get to see them so excited that they are literally shaking.  I really miss the shakin'!
Christmas Cards
Since we are so far away from family this year, this will be the first year that I put together a Christmas Card List.  I never really sent cards out with any regularity before, but I've added it to my Christmas Planner so that it will become a Christmas tradition from now on.
I was doing a little digging for what people usually do with Christmas cards and found some interesting facts and tidbits:
In 1840, the first postal service that ordinary people could use, called the Penny Post, was started in the UK.  The new railways being build enabled this new affordable service.  By 1843, the custom of sending Christmas cards was started in the UK by Sir Henry Cole.  This civil servant helped start the Penny Post then came up with a way to get ordinary people to use it by creating the Christmas card – smart cookie!
"Since 1982, Santa's Post Office has employed mail-room elves from Canada, and he has received more than 20 million letters from children around the world. Canada Post volunteers donate over 200,000 hours of their time each year to help Santa respond to every letter that arrives on his doorstep." – from "13 Things You Didn't Know About Christmas In Canada." Reader's Digest. accessed 7 Nov. 2017.
Guess we shouldn't complain about the length of our Christmas card list
Advent Calendars
The definition of Advent according to Dictionary.com is
The period beginning four Sundays before Christmas, observed to commemorate the coming of Christ.
It derives from the Latin word for coming and has been celebrated since the fourth century and originally began as a time for Christian converts to prepare for baptism.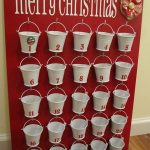 The first printed calendar was created by in the 1900's and became very popular in Germany.  In the US, the popularity of Advent calendars apparently became popular because Dwight D. Eisenhower was photographed with his grandchildren opening one.
Nowadays, some very creative people have come up with a lot of inspiring ways to keep this Christmas tradition alive and mark the passing of the 25 days till Christmas.  Check out this great tutorial at Infarrantly Creative.  I'd really like to make my own this year and fill it with all the miniature Christmas ornaments that I've been collecting over the years.  Every day will be able to add the little ornament to the tree.  Unfortunately, I'll also need to come up with a replacement tree.  I gave our little "Kitchen Tree" to my daughter when we moved out to the coast.
The Candle in the Window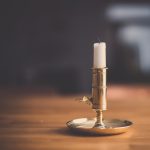 Around Nova Scotia, I noticed a prevalent Christmas decoration.  Nearly every other house had a candle or candles in the window during the season and I had to find out why.  Religious or ethnic backgrounds have different reasons for this candle, but I like the Irish reason.  I guess because I have Irish in my ancestry, was baptized a Catholic, and I'm a closet rebel.
The tradition started when the English were persecuting the Irish. Ireland's religion was suppressed. There were no churches allowed. Priests had to hide out in the wilderness in caves. The priests would sneak back into town during the night to have mass with fellow believers in their homes. Families hoped that a priest would visit them on Christmas to celebrate the Holy Mass of the savior's birth. When Christmas came, they would leave their doors unlocked and a candle burning in the window to let the priest know he was welcome in their home. They told the English authorities that they left the door unlocked and the candle lit to guide Mary and Joseph to their home and let them know they are welcome. The English thought nothing of this tradition. – "The History Of Holiday Candles In The Windows." windownation.com. N. p., 2017. Web. 15 Nov. 2017.
Also, a little known Irish tradition of Little Christmas or "Women's Christmas" which states that all Christmas decorations be taken down and put away on January 6th.  It is considered bad luck to remove your decorations and Christmas tree any time before this date.   Coincidentally, this is also the day Irish men take on household duties and the women go out on the town.
I like this tradition!
In Closing
The motive for the Christmas Eve gift is no longer valid but I think I'll keep it around this year.  I'll also have to get busy making the Advent Calendar and mini tree.  My Christmas To Do got bigger 'cuz I aslo want to spruce up some flame-less candles for the window.
What Christmas traditions do you have?  Do you also have some tricks you're willing to share for keeping the kids occupied?
The Gaelic greeting for 'Merry Christmas' is:
'Nollaig Shona Duit'
……which is pronounced as 'null-ig hun-a dit'.   — "Irish Christmas Traditions." Ireland-information.com. N. p., 2017. Web. 7 Nov. 2017.